Anniversaries are to be cherished. Celebrate your love for each other in a romantic, tropical setting. Many resorts and cruise lines now offer vow renewal services and romance packages. Share your renewal ceremony with a group of family & friends, or gaze only into each other's eyes. See our Island Directory for help in choosing your dream destination.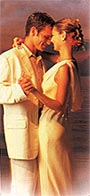 The all-inclusive resorts that offer Free tropical weddings
also offer a wonderful anniversary gift - a complimentary vow
renewal ceremony! The ultra-inclusive Sandals resorts,
Couples resorts, and Swept Away are luxurious, full service
resorts, created just for couples. The super-inclusive
SuperClubs resorts cater to couples, singles, and adult families.
Renew your vows on the beach, a tropical garden or gazebo,
or on Princess Grace's yacht…laid back luxury at its' best.
Bonus! - your 7th night is free** when booking an anniversary
vacation of 6 nights or longer at a SuperClubs resort…
if you got married at a SuperClubs resort, come back
on your 5th anniversary for 50% off!
Friends and family of all ages can be on hand when you renew your vows at 3 of the ultra, all-inclusive Beaches resorts - created by the people who gave you Sandals resorts, Beaches is everything to everybody. Singles, couples, families and friends - there's something here for everyone.
Cruising offers an atmosphere that's just right for Romance. Renew your vows onboard ship or with toes in the sand of an exotic island. Ask us about cruise line anniversary & romance packages. Leave your cares behind as you float from one paradise to the next, hand in hand, in the lap of luxury.
Make every Anniversary special. Fall in love with the idea of running away together. Let EverAfter help you create Priceless Memories.
May you grow old on one pillow - Armenian Proverb
*Inclusive features of vow renewal packages vary. The cost for cruise romance packges vary. Contact EverAfter for details. **Free night and 50% off offer are subject to availability, restrictions apply.