There are fifteen tropical hideaways on the enchanted isles of Jamaica, Antigua, St. Lucia, The Bahamas and now: Grenada and Barbados, created exclusively for two people in love and united by one glorious name - Sandals. Now with a selection of Unlimited Mondavi® Wines, Unlimited Premium brand drinks, Romantic Fire Pits, Luxurious Rooms and Suites, a variety of Land and Water sports, State-of-the-art Wi-Fi capabilities, Swim-up Pool Bars, Entertainment, and so much more… Sandals is the kind of experience you often dream about, but rarely encounter. And as the world's #1, most-awarded all-inclusive resorts, there's one thing that sets Sandals apart from all others - everything.

or click on the links below for Digital, Resort "Flipbooks"
---
Jamaica - "Come to Jamaica and Feel Alright"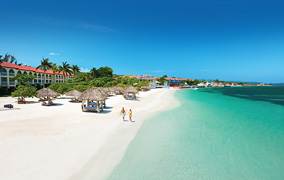 Sandals Montego Bay
"And the Beach Goes On"
This is the first Sandals, and the heartbeat of all the resorts. Sandals Montego Bay is located on one of Jamaica's largest private beaches. This vibrant resort offers beachfront rooms and suites, eight gourmet restaurants, 4 bars and 4 pools. As the flagship Sandals, Sandals Montego Bay sets the standard for excitement and indulgence.
View the digital flipbook: Sandals Montego Bay
---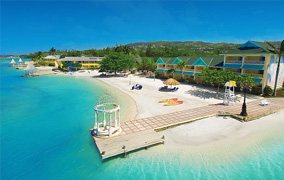 Sandals Royal Caribbean
"Experience the Royal Touch"
A noble escape in a traditional Georgian-style Great House setting. This beachfront resort is the epitome of understated elegance with breakfast in bed, afternoon tea, 8 gourmet restaurants, including an exotic Thai restaurant on the resort's private off-shore island as well as 5 bars, 7 pools, and FUN. Sandals Royal Caribbean, because you deserve royal treatment. Coming in 2016: over –the-water bungalows off the private island. Experience a South Pacific vibe in Jamaica!
View the digital flipbook: Sandals Royal Caribbean
---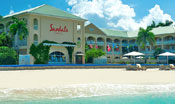 Sandals Carlyle
"An Intimate Hideaway For Two"
Quaint Sandals Inn has only 52 rooms, but it's big on warmth. There's true room service and a bed and breakfast atmosphere. Enjoy the pool, beach, and 3 restaurants, or indulge in all of the pleasures of the other Montego Bay resorts as part of the Sandals' "stay at 1, play at 3" program. Sandals Carlyle - the "in" spot for intimacy.
---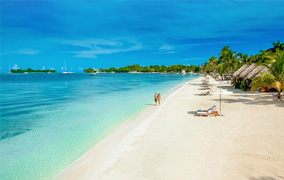 Sandals Negril Beach Resort & Spa
"Seven Miles of Serenity"
This exotic resort reflects a laid-back feeling. Situated on the largest stretch of Jamaica's famous seven mile beach, it is perfect for all water sports, and offers some of the Caribbean's best SCUBA diving in crystalline waters. There are 7 specialty restaurants to choose from, 5 bars, 3 pools and a magnificent European Spa.
View the digital flipbook: Sandals Negril
---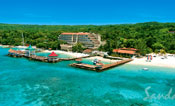 Sandals Ochi Beach Resort
"The most Happening Place is Happening Now."
Trendy when you want it, private when you don't. This new all-inclusive resort has a hot new beach club, 11 bars - including the Caribbean's first speakeasy, 16 totally on-trend restaurants and 105 pools (7 main pools). A true "Garden of Eden" on 100 acres. Nestled between the mountains and the Caribbean sea, this romantic hideaway offers quaint villas, cottage rooms, oceanfront rooms and secret gardens edged by powdery white-sand beaches . Greens fees are included at Sandals Golf & Country Club, only 5 minutes away. Jamaica's most dramatic luxury all-inclusive resort has truly arrived. The place to be and be seen.
View the digital flipbook: Sandals Ochi Beach
---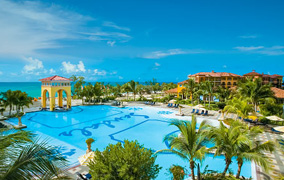 Sandals Whitehouse
Discover the Jamaica time forgot at this all-beachfront, all-oceanview resort set on a 500-acre wilderness preserve. Enjoy 7 restaurants, 6 bars and 3 pools. Sandals Whitehouse perfectly blends the exotic allure of the Caribbean with the refined elegance of Europe, surrounded by tropical trees and a unique two-mile stretch of beach where you can view both the sunrise and the sunset.
View the digital flipbook: Sandals Whitehouse
---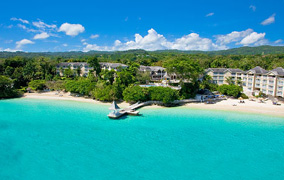 Sandals Royal Plantation
Ocho Rios, Jamaica, All Oceanfront, All Butler suites.
Some say the lush northern coast of Jamaica is one of the most beautiful places on Earth. Where the rolling hills of the St. Ann Mountains sweep down to the pristine white-sand beaches of a calm bay known as The Ocho Rios Riviera. Flawlessly set amidst this tropical paradise, Sandals Royal Plantation is a splendid seclusion for those who are serious about taking life easy, yet desirous of every refinement. Offering just 77 luxurious suites, all with stunning ocean views, it has the intimacy of an elegant private villa and the panache of a world-class resort of the highest caliber. Enjoy 6 restaurants, 2 bars and 1 pool onsite. Guests have exchange privileges next door at Sandals Ochi Beach Resort, giving you all the parties, pools, restaurants and clubs you could desire.
View the digital flipbook: Sandals Royal Plantation
7 Sandals Luxury Included Resorts in Jamaica:
Wine, dine, play, relax - in paradises made for two.
---
The Bahamas - "It Keeps Getting Better in the Bahamas"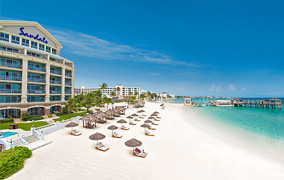 Sandals Royal Bahamian
"The World's Most Elegant All-Inclusive"
Grand European sophistication is combined with the seductive passion of the Caribbean. Revel in the grandeur of the heated colonnaded pools onshore or experience the pinnacle of privacy on our exotic offshore island complete with a gourmet Caribbean restaurant, swim up pool bar and 4 beaches. Located on powdery white Cable Beach, this impressive retreat was created for couples desiring luxury without boundaries. Enjoy 10 restaurants, 8 bars, and 7 pools.
View the digital flipbook: Sandals Royal Bahamian
---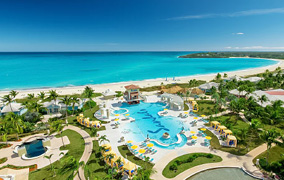 Sandals Emerald Bay
Great Exuma, Bahamas
Discover a beach-lover's paradise, a boater's haven, and a golfer's dream at this all-suite oceanfront resort with an 18 hole Greg Norman championship golf course, deep water marina, pro tennis & a mile-long white sand beach. Enjoy 7 gourmet restaurants, 6 bars and 3 pools. A perfect piece of heaven awaits at Emerald Bay.
View the digital flipbook: Sandals Emerald Bay
---
Antigua - "The Heart of the Caribbean"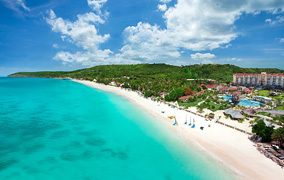 Sandals Grande Antigua Resort & Spa
"The World's Most Romantic Resort"
On an island of 365 beaches, this resort is located on Dickinson Bay, the best and most famous of them all. Sandals Antigua will steal your heart with its magnificent gardens and tropical flowers that lead to the clearest aquamarine sea. This romantic getaway offers the charm of a quaint Caribbean village or an opulent, Mediterranean village...accompanied by the refined luxuries of a world-class all-inclusive that is continually voted World's Leading Honeymoon Resort. Discover Sandals Grande Antigua's 11 restaurants, 7 bars, 6 pools and magnificent beach…and rediscover what it means to be in love.
View the digital flipbook: Sandals Grande Antigua
---
St. Lucia - "Simply Beautiful" Guests enjoy the
"stay at 1, play at 3 Sandals resorts" Mega Vacation.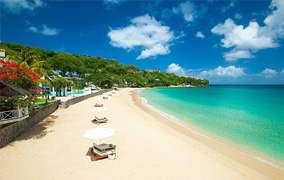 Sandals Regency LaToc St. Lucia Golf Resort & Spa
"The Emerald of the Caribbean"
Set along a half-mile crescent shaped beach, this resort - created for discerning travelers, takes you to the height of glamour. From the largest freshwater pool in the Eastern Caribbean…to Sandals own rolling fairways onsite…to the magnificent Villa Suites on Sunset bluff, Sandals Regency St. Lucia Golf & Beach Resort is the pinnacle of perfection. Guests enjoy 9 restaurants, 8 bars, and 3 magnificent pools.
View the digital flipbook: Sandals LaToc St. Lucia
---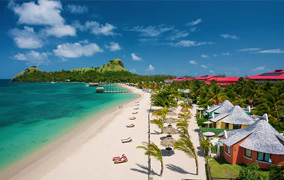 Sandals Grande St. Lucia Spa & Beach Resort
"closest vacation to a picture-perfect postcard" is set on its own spectacular peninsula surrounded by the sea on both sides. It features an elaborate spa, tennis pavilion, 8 dining options, many rooms with a water view, 6 bars, 5 pools, including one where guests can swim up to their room, 24 hr room service in butler service suites, and the best variety of water sports in St Lucia!
View the digital flipbook: Sandals Grande St. Lucian
---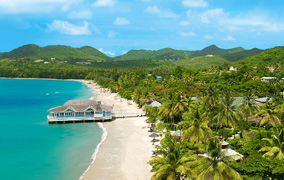 Sandals Halcyon
"St. Lucia's Ultimate Beach Resort"
Clear turquoise seas kiss St. Lucia's silver white shores with a gentle grace that makes this resort one of the most perfect places for soulmates to escape from the world. Enjoy "halcyon" days and romantic nights, a multitude of watersports, and the natural beauty of this sensuously secluded enclave. Enjoy 6 restaurants, 7 bars, and 2 pools. Play a round or two of golf as well and enjoy every other amenity at Sandals LaToc and Grande St Lucian as part of Sandals "stay at one, play at three" program.
View the digital flipbook: Sandals Halcyon Beach
---
Grenada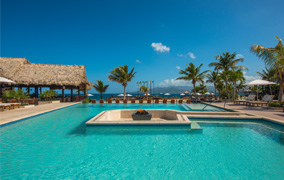 Sandals LaSource, Grenada Resort & Spa
"THE SANDALS OF TOMORROW"
Defying every convention of traditional design, the new Sandals LaSource Grenada takes innovation beyond the realm of imagination to create an exotic, extraordinary resort. Pools in the sky and living rooms in swimming pools. Private plunge pools, cascading waterfalls and meandering river pools.10 restaurants, including a Sandals first - a Steakhouse, 6 bars, 3 Freshwater swimming pools and 2 river pools. In the heart of Grenada's exclusive Pink Gin Beach, an island paradise where the intoxicating scents of spice and tropical blooms make a heady elixir for romance, they've taken the best of everything to create a new Sandals experience... one that takes you beyond the unexpected.
View the digital flipbook: Sandals LaSource
---
Barbados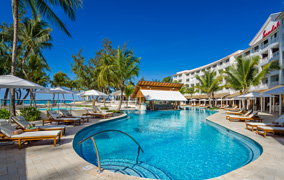 Sandals Barbados
"WHERE EXCLUSIVE IS ALWAYS INCLUSIVE"
Sandals Barbados, an all-new retreat in the spirited St. Lawrence Gap area, offers undeniable luxury with inventive accommodations spanning three unique villages, unlimited world-class cuisine with international appeal at 11 restaurants, including a festive Indian cuisine restaurant, and innovative bar and pool designs. Unwind to the relaxed calypso beat, enjoy the sun & surf and explore the sexiness of your suite, an abode designed with your utmost comfort in mind and featuring everything from ocean views, Butler Elite service and zero-entry access to Barbados' largest and longest lagoon pool, to private tranquility soaking tubs on most patios and terraces.
View the digital flipbook: Sandals Barbados
---


All You Need Is Love.
For couples who want to share the incomparable Sandals experience
with family and friends, Sandals has created
Beaches Resorts….for Couples, Singles, and Families.
click on a link for more information
Sandals Main • WeddingMoons • Beaches Resorts